New creativity through our external partners. Working on the internal job outside the company…?
Officially employed after working as an intern
I have learned creative stuffs from illustrations to designing at a designing school and started working as an intern at INFACT to explore the world of creativity.
The biggest reason why I started work this company as an official employee after the internship is our CEO. He was so sure about where the company would go in the near future and I was very fascinated by his idea.
Then I thought "I can pursue what I want to do and i just feel so excited!"
In the beginning, I was involved with easy Web designs and coding. Through the experience of building a website, I could see how my design will be carried on after finishing the designing process.
Now I work on landing pages, corporate websites, media designing and so on.
New discovery through work with a designer from our external partner
The third year since I started working at INFACT, I was doing great with more various works and feeling fulfilled with what I did, I was also feeling that my quality of design may not be enough.
So I confessed to the CEO my true feeling towards the work, he suggested me working at a graphic design company which our company had a partnership with.
When I heard it, I immediately started feeling excited and thinking "I do want to!". That's how I started working at the partner company.
I cannot appreciate the CEO enough every time I think about it.
Working at a different company while you are still a member of INFACT
The whole experience was a bit similar to when I was an intern; working at a different company and do my usual work.
It was only me who was working in the different environment, but that didn't bother me at all in terms of communication because there were many internal communication tools.
Having a designer around me was simply great because I could learn the new values, perspectives and even issues. And more than anything, it was awesome to get opinions by the designer who has more experiences than me in the field.
Even though we were categorized as "designers", our perspectives were completely different as we work on websites and paper (graphic). It was nice to find such discovery.
Additionally, not only the practical methods, the working environment was also great, I did enjoy working surrounded by creative elements.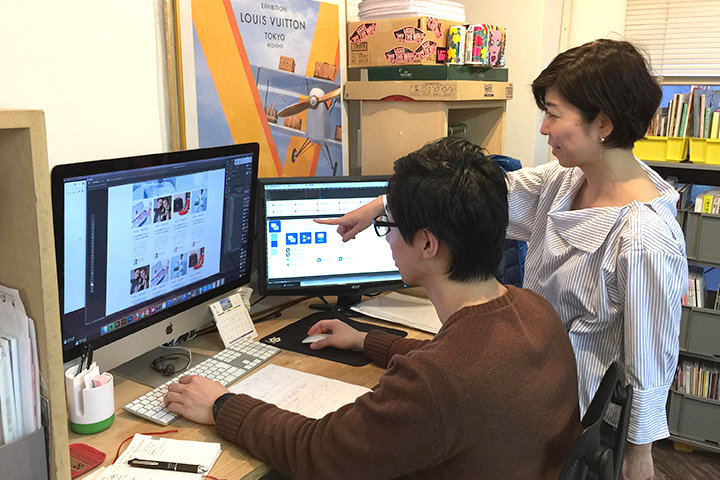 Full support for one that wants to grow
This experience using our in-house system was quite special, i think. It may only be possible at INFACT.
INFACT is always supportive because the company itself is eager for the challenges.